Growing up Buck Owens' son, Johnny was surrounded by the best of the best, musically. Once his father passed, Johnny felt it was important to keep his dad's legacy in country music alive. The members of the band have the same passion and reverence as Johnny does for traditional country music.
Johnny Owens and the Bakersfield Sound is wildly popular. Johnny's on-stage stories about growing-up an Owens, his perfection performing his dad's songs, and the sweet sounds of pedal steel guitar and fiddle, mixed with guitar twang, have proven to be a winning combination.
 Hectic Films created a mini-documentary about the Bakersfield Sound and the Bakersfield Sound Tribute.  Johnny Owens is featured in the production.  See that video here.
Act Naturally
Johnny Owens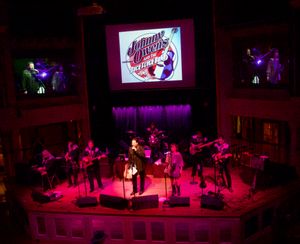 Printable One sheet